About us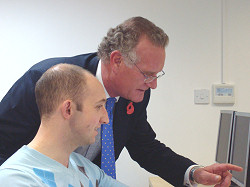 Coe & Co teaches accountants, bankers and other professionals how to build robust, reliable financial forecasts using Excel as a tool.
We operate form a site in London but are very happy to travel anywhere, if required.
Coe & Co was founded in 1998 by Stephen Coe to provide Management Consulting and Education services. The main part of the educational side of the business covers teaching people how to produce financial forecasts using Excel as a tool.
Stephen Coe
After gaining his MA in Engineering at Cambridge University, Stephen joined KPMG and qualified as a chartered accountant in 1984
"Stephen is an excellent lecturer and made the course very interesting"
Corporate Financier
"Easy to understand, with good examples putting work into context"
Corporate Financier
"Taught me some great practical points about modelling"
Accountant
"Great communication skills and very broad experience in financial models"
Business Adviser
He then joined KPMG's Management Consulting firm, specialising in writing financial forecasts using a variety of spreadsheets. During this time he realised the importance of setting work out clearly and how difficult that can be with spreadsheets. Having developed his own spreadsheet methodology and applied it to numerous acquisition and other scenarios, Stephen was asked to lecture it to other spreadsheet users and to clients, including Schroeders, SBC Warburg, Hambros, NM Rothschild and NatWest.
Stephen left KPMG to join UBS Warburg's Education Department at the start of 1996. There he continued to present his basic financial modelling course. He also developed and presented courses outside modelling area that covering the main technical topics that are essential knowledge for a corporate financier.
In April 1998 Stephen left Warburgs to set up as an independent management consultant, specialising in educating and advising people about financial modelling.
I addition to his commercial clients obligations Stephen also lectures on financial modelling to the MBA students at the London School of Business and Finance.
Contacting Coe & Co
To send a message to Coe & Co please e-mail stephen@coeandco.co.uk
To speak directly to Coe & Co please call +44 (0) 207 207 66 77